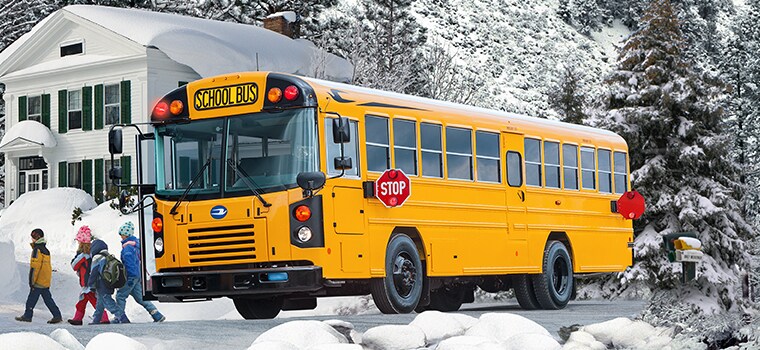 Newly updated, the All American Forward Engine continues to provide classic All American features along with a flexible array of body plans and seating configurations accommodating 54-90 students. As a leader in transport, the FE is especially stellar at navigating in densely populated areas and along highly-trafficked, tight and twisty routes. Its enhanced front service door allows easy access to the engine without the need for special tools, thus increasing uptime and reducing maintenance time.
Integrated A/C/ Systems
Recessed Wheelchair Tracks and Tie-downs
ADA Compliant Lifts
Advanced Safety Features such as Steel Rub Rails, Passenger Safety Cages, Decreased Operational Engine Noise, Steel Bumpers, Enhanced Defrost Air Flow, Improved Diver Visibility, Rack Testing Compliance
Blue Bird offers the most fuel efficient engines, Best-In-Class Turning Radius, Tilt/Telescoping Steering Column, Multiple Seat Plans, Larger Door Entrances, Industry Best Paint Warranty
With Blue Bird Factory trained technicians, Bird Bus Sales can maintain and service your vehicle with premium Cummins Engines, Roush CleanTech components and our extensive parts networks.