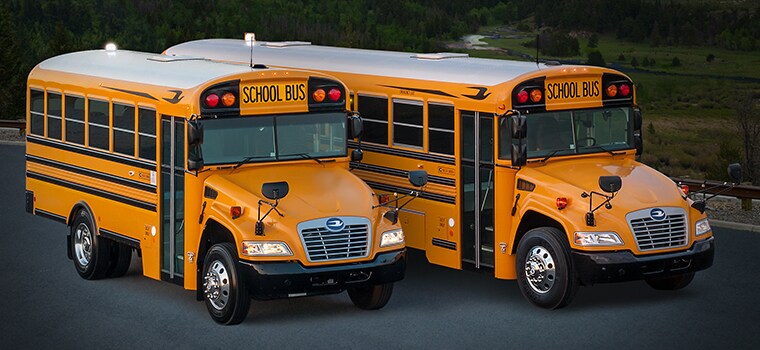 As a staple in the school bus industry, the Blue Bird Vision continues as a frontrunner in school bus safety. The Vision's purpose-built, angled hood offers the greatest loading and unloading zone field of vision in a conventional Type C school bus. The ergonomic and comfortable driver's cockpit includes a driver-information-display panel that provides a wealth of system information to both drivers and service technicians. With capacities ranging from 36 - 78 students, the Blue Bird Vision offers the flexibility needed for today's transportation needs along with the safety, quality, durability and serviceability to ensure that this school bus continues to meet those needs throughout the life of the vehicle.
Integrated A/C/ Systems
Recessed Wheelchair Tracks and Tie-downs
ADA Compliant Lifts
Advanced Safety Features such as Steel Rub Rails, Passenger Safety Cages, Decreased Operational Engine Noise, Steel Bumpers, Enhanced Defrost Air Flow, Improved Diver Visibility, Rack Testing Compliance
Blue Bird offers the most fuel efficient engines, Best-In-Class Turning Radius, Tilt/Telescoping Steering Column, Multiple Seat Plans, Larger Door Entrances, Industry Best Paint Warranty
With Blue Bird Factory trained technicians, Bird Bus Sales can maintain and service your vehicle with premium Cummins Engines, Roush CleanTech components and our extensive parts networks.
Schedule Service
Parts Request