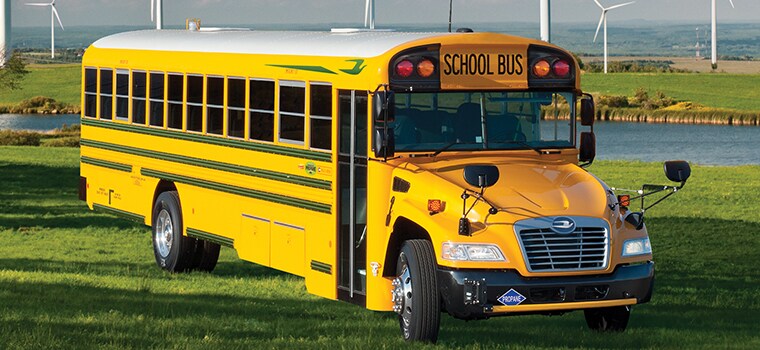 Leading the industry as the most popular alternative fuel school bus, Blue Bird's next generation Propane-Powered Vision bus, a fully integrated and purpose-built Original Equipment Manufacturers (OEM) bus, is engineered to the same exacting standards as other Blue Bird products. This award-winning bus is powered by the Ford 6.8L engine, which is designed and engineered to operate on propane utilizing the 
ROUSH CleanTech Liquid Propane Autogas Fuel System
. As many satisfied customers can affirm, propane autogas is a safe, clean and affordable alternative fuel 
with an established infrastructure system throughout North America
.
Check out all the
Vision Propane Information Here.
Ask Our Staff About:
Integrated A/C/ Systems
Recessed Wheelchair Tracks and Tie-downs
ADA Compliant Lifts
Advanced Safety Features such as Steel Rub Rails, Passenger Safety Cages, Decreased Operational Engine Noise, Steel Bumpers, Enhanced Defrost Air Flow, Improved Diver Visibility, Rack Testing Compliance
Blue Bird offers the most fuel efficient engines, Best-In-Class Turning Radius, Tilt/Telescoping Steering Column, Multiple Seat Plans, Larger Door Entrances, Industry Best Paint Warranty
With Blue Bird Factory trained technicians, Bird Bus Sales can maintain and service your vehicle with premium Cummins Engines, Roush CleanTech components and our extensive parts networks.
Parts Request
Schedule Service